The LIFE with Vultures project
What is LIFE with Vultures?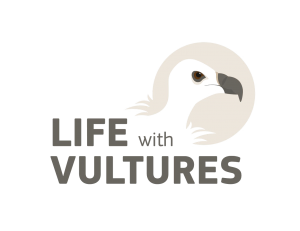 LIFE with Vultures is a targeted conservation project for the protection of the Griffon Vulture in Cyprus.
In this four-year endeavor (2019-2023), BirdLife Cyprus, the Game and Fauna Service, Terra Cypria – The Cyprus Conservation Foundation and the Vulture Conservation Foundation have joined forces to tackle the main threats facing the Griffon Vulture and prevent Cyprus' most threatened bird of prey from going extinct.
The project has a €1,375,861 budget and is co-funded (60%) by the EU's LIFE programme.

The overall objective of the LIFE with Vultures project is firstly to prevent the extinction of the Griffon Vulture in Cyprus followed by improving the conservation status of the Griffon Vulture population in Cyprus. 
To achieve this, the project will address critical threats to the species, involving key stakeholders in the process and bolstering the local population to enable its recovery.
You can follow the project's progress by clicking on the link below.
The LIFE with Vultures project includes anti-poison actions, actions to enhance feeding opportunities, anti-collision actions, actions to bolster the Cyprus population with restocking, monitoring, building capacity, promoting project replicability and transferability as well as awareness raising and dissemination actions.